Quite possibly because I've been on a 3-day training on marketing style persuasion techniques and the acronym "TG"–that's Target group for y'all novices–is starting to sound like a word, the news that a hummus manufacturer was looking for sports fans caught my attention.
"Hummus is conquering America," the Wall Street Journal announced some months ago–only three years after Fox News' eyebrow-raising report that "There's Hummus Among Us," and a whole year after Australian Food news remarked on this growing trend. Late news or breaking, the inter-penetration of hummus into the American landscape of ethnic eating is irrefutable; the language of conquest and even suspicion, noteworthy. Here are some facts:
In less than two decades, the hummus industry has expanded from an ignorable $5 million to upwards of $300 million in 2010 and about half a billion in 2013 (or more, depending on what source you consult).
According to Business Week and depending on where in the United States you are, hummus accounts for between $400 to $800 of weekly sales, per store.
And the market for "spreads" continues to grow at 14%, with Sabra Dipping Company (co-owned by Tel Aviv-based Strauss Ltd. and PepsiCo), Nestlè's Tribe, and Kraft's Athenos forging ahead to consolidate market share.
Of these manufacturers, nobody is trying harder than Sabra. The hype about hummus this year has in fact been mostly about Sabra's skyrocketing rise to controlling 60% share in the "refrigerated flavored spreads" market, up 20% in the past year alone. Which apparently makes Sabra ready to take on salsa, that never-yet-unseated king of sport-spectator dips.
In order to keep the supply chain well-fed, news source upon news source repeats the same information, and it's an unusual-but-unsurprising narrative: Americans are smoking less, tobacco sales are declining, the government is ending tobacco farm subsidies this year, and it's chick peas that're filling the vacuum. So much so that Virginia farmers are on the verge of becoming hummus evangelists.
[You'd think there'd be more hype about declining smoking in America. But what seems to matter more is hummus.]
And where's all of Sabra's 4,000 tonnes of annual hummus production happening? In their factory in Richmond, Virginia, of course–where there's a new variety of chick peas (developed by researchers at Virginia State) being field-tested to see if the crop can withstand the region's humid climate. Chick peas are typically grown in Idaho, Washington, and the Dakotas. Sabra is keen on ensuring that the company doesn't put all its eggs–er, chick peas into one growing basket.
The hype over hummus this year overrides all the riotous politics that otherwise follows the humble chickpea-tahini-lemon-garlic spread around. Consider this brief headline-history:
2007: Sabra set the Guinness World Record for largest Hummus plate ever served at a New York city event. Sabra's competitor in Israel responded with an even larger plate in 2008.
2008: The Association of Lebanese Industrialists went to the European sought protected status for hummus–insisting on its precise provenance, putting it in the company of French Champagne, Greek Feta [see also this],and fighting those Israeli brands that dare to claim hummus as their own by marketing it via such mainstream UK channels as Sainsbury's and Tesco's.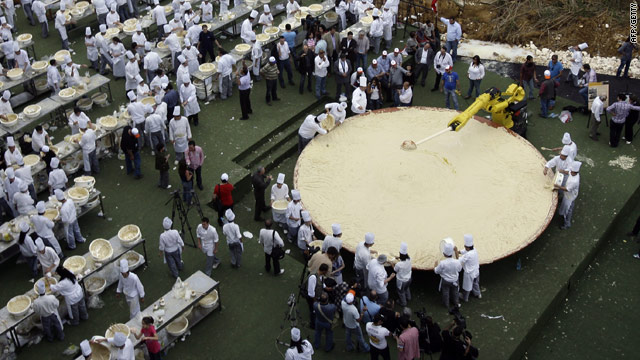 2009: Lebanon entered the hummus record war, trading positions with Israel for largest hummus plate served until 2010, when it claimed its latest title.
2010: DePaul University's Students for Justice in Palestine group and Princeton's Committee on Palestine each pushed for a referendum on pulling Sabra hummus from the schools' cafeterias, on the grounds that Sabra's parent group Strauss supported the Israeli infantry's Golani brigade. "Boycott Hamas, not Hummus!" was the pro-hummus rejoinder.
2013: Sabra vies for the title of NFL's official dips sponsor–which adds another dimension to the debate that nobody else is really discussing: it turns hummus into a guy thing.
Dafna Hirsch says it best: the discourse on hummus is often structured by the language of conflict and reconciliation. For, for every conflict expressed in the idiom (or medium) of hummus, there's a Hummus Blog, a Zohan who uses hummus to douse fires, or a documentary that exhorts you to Make Humus not War–or even the Humus Enforcement Agency [a short film which hilariously imagines the day after humus has been outlawed]. There are hummusias and hummus bars aplenty serving up dishes upon dishes to share and wipe clean. There are even those who dare to suggest that "'Israel is past the hummus stage." [Gasp]
Still others reject the terms of debate, arguing that the issue is not provenance or the authenticity of origins, but the sheer love of hummus. "Who owns hummus?" is not just a contentious question, but the wrong one. Janna Gur, for example, author of The Book of New Israeli Food, speaks of a long and complex love affair.
While not a single Israeli will claim that this chickpea and tahini concoction is anything but Arabic, the status it has reached in Israel is unprecedented anywhere in the Middle East. In Lebanon or in Jordan hummus is a simple morning fare or a part of a meze [appetizer] table. In Israel it is a religion. The best hummus restaurants, invariably owned by Arabs, are considered national treasures. Guides are dedicated to the best places to "mop up" hummus, books and essays discuss comparative virtues of fluffy Jerusalem hummus as opposed to chunky Galilean one. This love affair, that has been going on for decades, shows no signs of dying. The latest addition to the hummus scene is a wave of upscale restaurants, serving hummus with toppings like foie gras.
Dafna Hirsh of Israel's Open University offers a more historical take.
In the 1940s and early 1950s, hummus was presented as an Arab dish worthy of adoption by Jewish settlers. The flourishing of Jewish Oriental restaurants and the subsequent industrialization of hummus in the 1950s and 1960s played an important role not only in its popularization but also in the suppression of its Arab source. I argue that the reemergence of the Arab identity of hummus in the 1980s and 1990s resulted from the interaction between processes occurring in the culinary field and in the field of politics. As a highly popular and emotionally charged "national food," hummus became a terrain for distinction strategies, as well as for representations of Arab-Jewish relationship.
In the meantime, hummus also went ethnic (in the UK and United States), it went gourmet, it rode waves of  healthy-eating, and it got translated and made relatable to world palates and tastes so that you can now get Buffalo hummus, basil-pesto hummus, Tuscan garden hummus, and (God help me) Asian fusion hummus.
Sabra now plans to position hummus beside every American television on Superbowl day, and eventually to graduate it from dip (it's there) — to spread (happening) — to side dish. There's no multicultural table here at which to vie for a place (à la Kurien), but a position on the American plate and a per-serving quantum measure of security.
Only Janna Gur, in the end, asks the right question about hummus: why buy industrial loaded-with-preservatives-and-stabilizers hummus anyway, regardless of provenance? For there  is nothing in this world quite like the taste, or the simplicity, or the fulfillment of making hummus from scratch, yourself.
And so make it from scratch, I did, right down to the tahini. Neither Arab nor Jew, I've never been more proud to claim hummus for my own in far-off Pondicherry.
Classic Hummus from scratch
[adapted from The Hummus Blog and Janna Gus' recipe]
The day before:
Rinse 1 cup of dry chick peas, cover with water and allow to soak overnight (or all day; approximately 12 hours).
Hummus Morning:
Rinse your soaking chickpeas again to clear off the scum and bubbles that may appear on the water (this helps reduce gasiness)
Place in a pot with water to cover, a pinch of baking soda, but

no salt

. Bring to a boil and then simmer until you can smash the peas between two fingers effortlessly. If you own a pressure cooker, this is a great time to use it as it will cut your cooking time down to a quarter (4-6 whistles).
While the chick peas are cooking, make your TAHINI:

Roast 1 cup of sesame seeds over a gentle flame, mixing, tossing, and never taking your eyes off the pan. Sesame seeds go from browned to burnt in a wink. When they crackle just ever so softly and start to brown, you're done. Allow to cool.
Transfer to a small grinder and pulse a few times to powder.
Drizzle or just pour 3-4 tablespoons olive oil–barely enough to make a sauce.
Transfer to a bottle and store refrigerated.

Pick off the chick pea skins that float to the top, but don't worry if you leave a few behind. Reserve the cooking water. Allow to cool; transfer to a blender.
Whirr the cooked chick peas with 1/2 cup tahini, salt to taste, 2-3 garlic pods (or more if you like more), and the juice of one large lemon. Add just enough cooking water to blend easily, and more later if you need it. The hummus should be a tad thinner than what you're aiming for, as it thickens later.
Et voila: classic hummus. Serve with a sprinkling of chopped parsley, black olives, and  a drizzle of extra virgin olive oil.
Variations: 
Blend in a roasted red pepper [cut in half, roast under a broiler, peel, and add]
Blend in a roasted jalapeno and some chopped cilantro [roast as above or pan-fry in a teaspoon of olive oil]
Set aside a half cup of cooked chick peas, and mash into the hummus at the end for a chunkier texture